JPRはペットビジネスやペット産業・市場のコンサルティング会社です。ペット関連の商品開発、事業開発、販売戦略、販路開拓、またペット産業・市場への新規参入もコンサルします。
English
About Us
 JPR Corp. has deployed the following three businesses, mainly in Kanagawa Prefecture, that target general pet owners: Animal
 hospitals, pet grooming salons and pet hotels, and online shopping and media information services.
 We have also deployed corporate management support services that include "marketing research", "management
 consultations", "business development consultations", and "marketing support" based on our experience and knowledge with pet businesses accumulated in the field.
JPR Business Summary
● Animal hospital business managing the "PRIMO Animal Hospital Group".
● The service business for pets and pet owners by "Pet Salon Combi" as pet grooming, and hotel, "Pet Clinic.Com" as a leading online provider of pet supplies and pet care information.
● Management and business support for new entrant companies/businesses.
・Consultation/advisory services
・Marketing research/collection of clinical trial data
・Marketing support/publishing
● Media information/education service business.
・Management of the pet industry news site: "JPR Pet Industry News"
・Publishing business for parties involved in the pet industry: "Pet Business Books"
・Management of the pet business seminar: "JPR Pet Academy"
Business Domain of JPR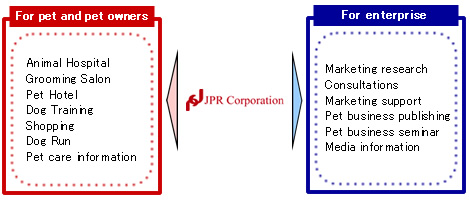 Our Services
 Our services for the foreign enterprise which have intention to approach the pet market and industry in Japan.
1.Japan pet industry market research
Provides a research service that analyzes the possibility of entering the Japanese market. We report on the current condition of the Japanese market by collecting and analyzing up to date that suits your aims and is relevant to entering the Japanese market such as competition research, sales estimates, and the voice of consumers.
[Examples of research and reports of the pet market in Japan]
・ The necessary market trend research for evaluating entry into the Japanese pet industry and market
・ Marketing research on the consumer trends of Japanese pet owners
・ Current and future trend research on the Japanese pet product market
2.Japan pet business publishing
We have published some books analyzing the Japanese pet industry and market from the economical and sociological points of view such as market structure, analysis of characteristic consumer activities of pet owners, customer target analysis method, etc.
[Upcoming books]
Guidebooks on the pet industry and market in Japan
"Distribution in Japan"
"Trend of Breeding Cats and Dogs in Japan"
"Animal Hospital Market in Japan"
3.Support for entry into the Japanese pet market
・Sales representative service by Fax &Tel
We can promote your products and services in the Japanese market and to Japanese companies on your behalf. Direct promotions are made by fax and e-mail, and the telephone
after listing the most suitable companies for you from the information on pet business support companies and animal hospitals that we have.
・Accompanied sales support
We support sales promotion of your products/services by accompanying your sales staff on sales visits. We visit the most effective targeted companies selected from data on pet business support companies and animal hospitals that we have with your staff, thus allowing the most effective sales promotion.
Corporate Summary (as of Jan. 2008)
Company Name

JPR Corporation

HQ Location

Sakaya Building 2F 1-27-14,Morino,Machida-shi,
Tokyo 194-0022,JAPAN

Established

June 18 ,2003

Capital

Yen 15,000,000

Employees

48(As of January. 2009)

Client

Medicine manufacturer, Medical-device manufacturer, Animal hospital, Pet food manufacturer, Pet supplies manufacturer, Trading Company, Pet insurance, Pet publishing, Animal college etc…

Management

President Y.Namatame
[D.V.M, Certified Management Consultant]

Vice President K.Bushimata
[D.V.M, GM of Animal Hospital Business Dept.]

Director K.Hattori
[GM of Pet Business Support Dept.]

Director K.Kawano
[D.V.M, GM of Veterinary Science]
President's Message
It has already passed some decades that we had recognized pet as the existence having some role in human being sociality and pet had been united in the structure of human being sociality. And now, the role of pet was changed as the social partner for human being ,and so the life and culture with pet is in the common sense in the current sociality.
In recent years, since the big wave of change has been come in the pet industry and market in Japan, the new pet business development and creation has been born and new comer from other existing industry has been entered in the pet industry and market in Japan.The pet industry and market in Japan grown-up in the scale of over US$ 10 billion and is respected as the popular industry and market in Japan as the same situation with Europe and U.S.A that is the pet advanced country in the world.
Therefore, in order to create and promote more abundant sociality and welfare with pet, the role and contribution of enterprising businessman which supply the commodity and service for pet and pet owners is very important thing and expected as a tractor. The response of such expectation must be realized through the more constructive businesscreation based upon the high quality and specialty of service and information about pet.
We, JPR Corporation shall be a challenger for the realization of more valuable business to construct social prosperity with pet and a supporter for pet, pet owner and pet business by using our best knowledge and skill cultivated in the unrestricted and creative environment of our job. Our coming pleasure maybe in reaching the true with pet sociality and community with you who have the same wish as us.
President of JPR Corporation
Yasumichi Namatame